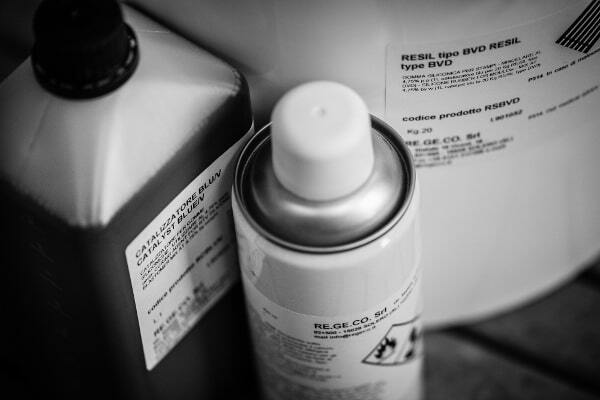 SILICONES, CATALYSTS AND DEMOULDING AGENTS
Ranging from Shore A 10±3 to 30±3, RE.GE.CO bi-component RTV (Room Temperature Vulcanisation) Silicones are widely used in the shoe industry, whether for heel (RSTRP/RSDRU) or large sole (RS200/RSBVD) impressions.
RE.GE.CO's Catalyst (5% of silicone weight) can be added whether mixing by hand or by a low speed vacuum mixer, to reduce air bubble entrapment. RE.GE.CO's Demoulding agents, liquid (RDL/RDLW) or aerosol (RDS), are the perfect solution for difficult release of the model.
SILICONES, CATALYSTS AND DEMOULDING AGENTS
| CODE | PACKAGING |
| --- | --- |
| RS200/RSBVD/RSTF/RSTRP/RSDRU | Fusto conico in plastica da kg. 20 |
| RC200/RCBLU/RCBLUV/RDL/RDS | Container 1 kg |
SILICONES, CATALYSTS AND DEMOULDING AGENTS